hibiscustea
So, I am going to do you all a favor and let you in on a secret recipe of mine that's basically impossible to muck up. It's a cake recipe for those with little time, money or space. Perhaps most appealingly (to me at least), all the ingredients can be listed out in tablespoons. It's simple and yet quite impressive. It's also tasty as hell.
And this is where I got it from.
For those of you who wish
not
to follow said link, I present to you the Torta di Limone cake (with additional notes by moi)!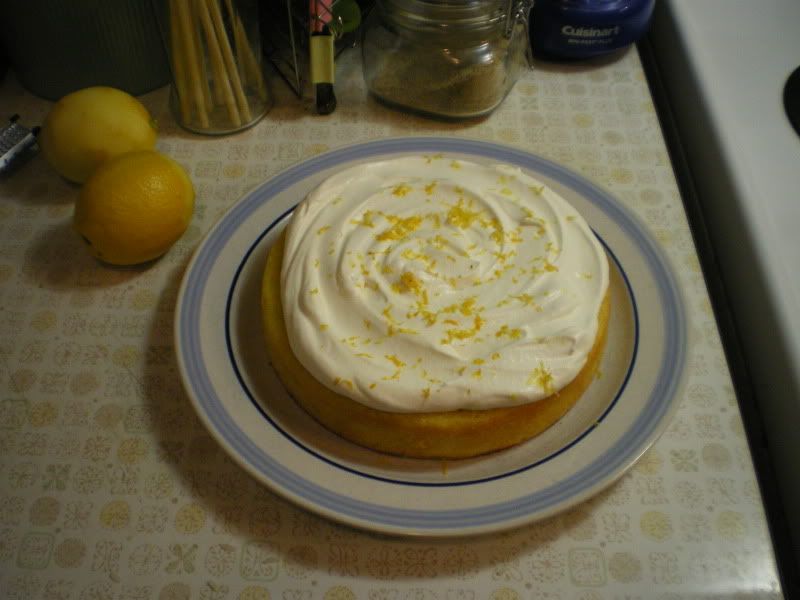 Isn't it pretty?
Torta di Limone
Borrowed from A Baker's Odyssey by Greg Patent | Serves 8

- 2 large eggs
- 7 tablespoons sugar
- 7 tablespoons milk
- 7 tablespoons extra virgin olive oil
- 9 tablespoons AP flour
- 2 teaspoons baking soda
- 1/4 teaspoons salt
- zest from 2 large lemons
- 3 tablespoons lemon juice (you should get enough from the lemons you zested)

Note: While it says both here and in the linked recipe to use lemon, you can basically substitute whatever flavour you want here. I've made this cake successfully with lemon, lime/keylime, clementines (though that one turned out a little sweet), chocolate, and even ginger (used a ginger liqueur for the 3 tbsp of liquid, and powdered ginger for the zest).

1. Preheat your oven to 350*F, move the oven rack to the lower third rung, and grease your cake pan. The recipe calls for a 9" round pan, but I've made this successfully with a slightly smaller one, so do what you will. Once the cake pan is greased, I tend to sugar the inside; this serves two purposes in that it makes the cake easier to remove from the pan after cooling, as well as giving the cake a sugar coat. Which, in my personal opinion, is never a bad thing. If you want your cake not-so-sweet, substitute flour for this step.

2. Place the 2 eggs in a small bowl and fill it with hot water; let the eggs sit for 5 minutes.

3. While the eggs are sitting, in another small bowl mix together the flour, baking powder and salt. Set aside. Once you've done this your eggs should be ready to be removed from their bath. Empty the water, and dry the eggs and bowl--set the bowl aside, you will want it in a minute.

4. In a large bowl, mix eggs with sugar briskly for 1 minute. Set this aside for a moment while you grab that small bowl you dried earlier, and in it mix together the milk and olive oil until combined. Add the milk/oil mixture to the eggs/sugar mix, and whisk briefly so that all ingredients combine.

5. Now add your dry ingredients to your wet ingredients. Mix until smooth.

6. Add the zest and 3 tablespoons of lemon juice, and stir in--just a few turns of the wrist to evenly distribute the zest. Once done, pour into prepared and waiting pan.

7. Bake for 20-25 minutes, or until the top of the cake is slightly golden and the center springs back slightly when touched. (This may take a little longer than 25 minutes, depending on your oven.) Let cool in pan for 10 minutes or so, before removing it to a wire rack to let cool completely. Serve with with sweetened whip cream, or dusted with powdered sugar, or topped with a light glaze, and enjoy!